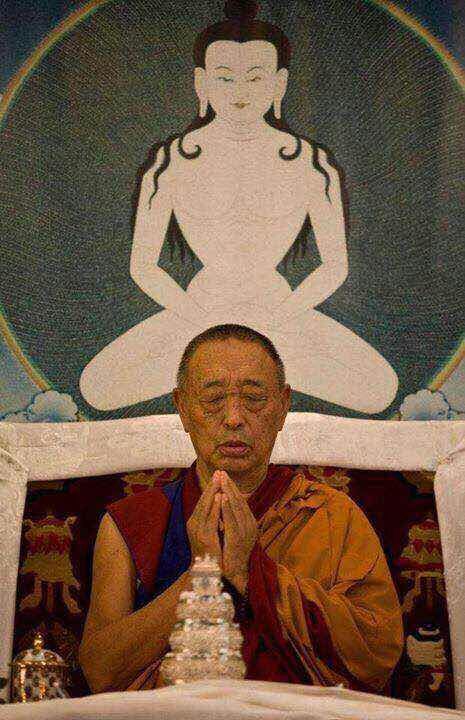 MONTPELLIER – Wednesday, November the 1st, 2017 – Great ritual in honor of His Holiness the 33rd Menri Trizin passed away 49 days ago. Location: Montpellier Tazig Center, from 6 pm.
Active participation of Tazig practitioners is strongly recommended. All offerings of flowers, candles, incense and food or in kind will be much appreciated.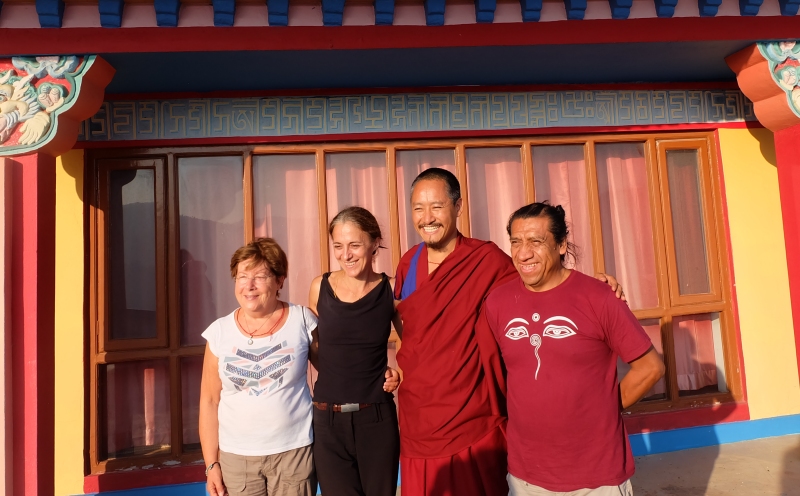 At the end of this ceremony, Rinpoche, Stephanie, Pancho and Josette will share with you all the precious and moving moments lived at Menri Monastery in India.
Some photos and videos will be presented to you.

MONTPELLIER –  Sunday 10 September 2017: The Tazig Samten Rinpoche association will be present at the 37th edition of the Antigone des Associations. We will be delighted to meet you! More information on this event here .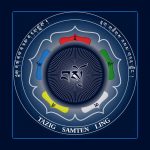 MONTPELLIER –  Sunday 2 July 2017: General Assembly 2017 of the association Tazig Samten Ling.
TIBET –  Lama Samten Yeshe Rinpoche in Tibet from 28 January to 22 February 2017.
MONTPELLIER –   Friday, December 30, 2016 – Purification ritual to eliminate all the traces of negative karma that we would have accumulated during the year and to approach the new year under the best auspices.
MONTPELLIER –   Saturday 10 December 2016 – Exhibition of Tibetan art and cult objects: Malas, incense, prayer flags, embroidered pouches, CD, tangkas and calligraphy by Lama Samten Yeshé Rinpoche.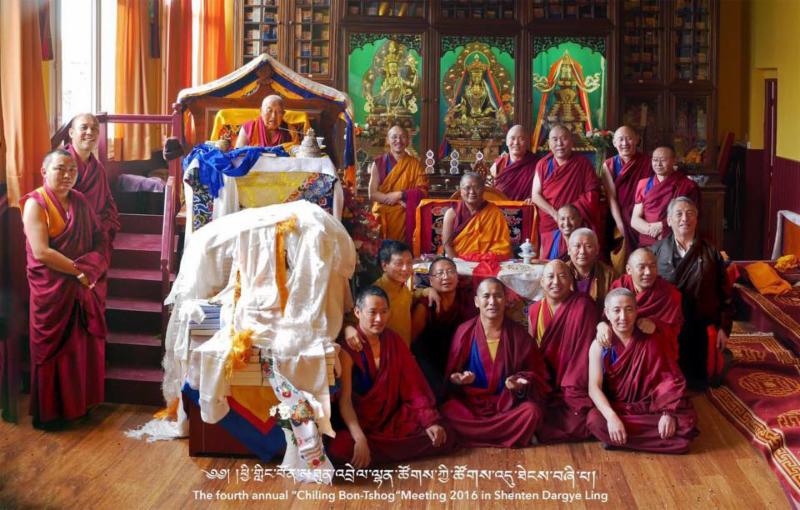 SAUMUR –  23rd to 25th November 2016 – Participation in the 4th big meeting of the Masters Bön: Fourth annual "Chiling Bön-Tshog" meeting 2016, Shenten Dargye Ling .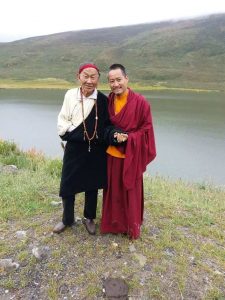 MONTPELLIER –  Wednesday 5 October 2016 from 6.30 pm evening: souvenirs of travel to Tibet.
TIBET  – August – September 2016: Journey of Lama Samten Yeshé Rinpoche in Tibet.
MONTPELLIER –  Tuesday, February 23, 2016: Anniversary of the Buddha Tonpa Shenrab, born 18,000 years ago and come to bring us the precious teachings of the Bön tradition. The whole local Sangha participates warmly in these practices by making offerings of flowers or money.
MONTPELLIER –  Friday, February 12, 2016: Anniversary of Nyamé Shérab Gyalsten. This celebration allows us to witness our devotion and to address our prayers to this great master of the Bön tradition.
MONTPELLIER –  Tuesday 9th February 2016: Celebration of the Losar, the Tibetan New Year which is a very important festival in Tibet.
LE VIGAN – Saturday 9 and Sunday 10 January 2016  : First birthday of Tazig Samten Ling Rogues. A moment of sharing open to all.
MONTPELLIER –  Sunday, September 13, 2015: Fair of Associations of Montpellier in Antigone.
MONTPELLIER – From May 26th to 31st 2015: Tibetan medicine conference cycle with the exceptional presence in Montpellier of an eminent Tibetan doctor, Doctor of philosophy in the original Tibetan tradition, Superior of Gangru Monastery Dhargye Gon (Tibet) Geshe Kalsang Norbu Rinpoche.
MONTPELLIER – February 18, 2015: Ritual practice of purification Gutor which allows to end the year of the Tibetan calendar of the wooden horse.
MONTPELLIER – February 19, 2015: Practice of Blood Chöd and celebration of the Losar, first day of the year of the sheep wood.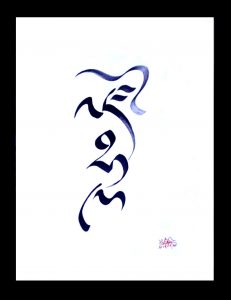 MAUGUIO – March 2015 – Exhibition of Tibetan Calligraphy by Lama Samten Yeshi Rinpoche as part of the month "Paths to Spirituality" at the Mauguio Mediatheque – Tibetan calligraphy, much less well known than Islamic, Persian or Chinese calligraphy, is today close to extinction. Combining tradition and modernity in his calligraphic work with Indian ink, Lama Samten is inspired both by the values ​​of the millenial Tibetan wisdom and those of Western spiritual culture. He thus created calligraphies symbolizing "Compassion" or "Clarity of the Spirit" as well as some representing the name of Jesus or Mary in Tibetan.
..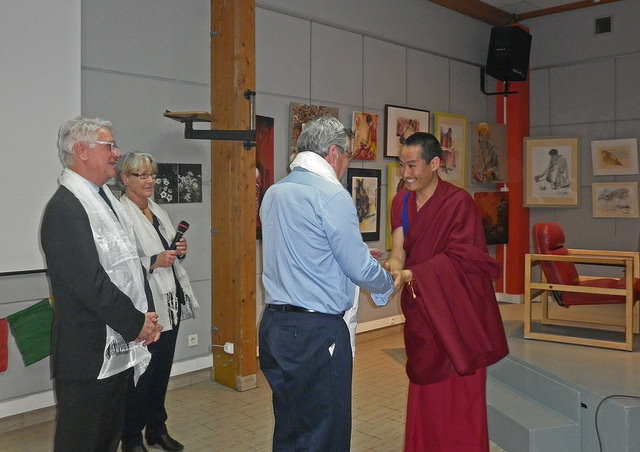 CASTELNAU LE LEZ – January 2015 – Program Himalaya: Exhibitions, photographs and paintings. Evening on Himalayan knowledge and sharing.
..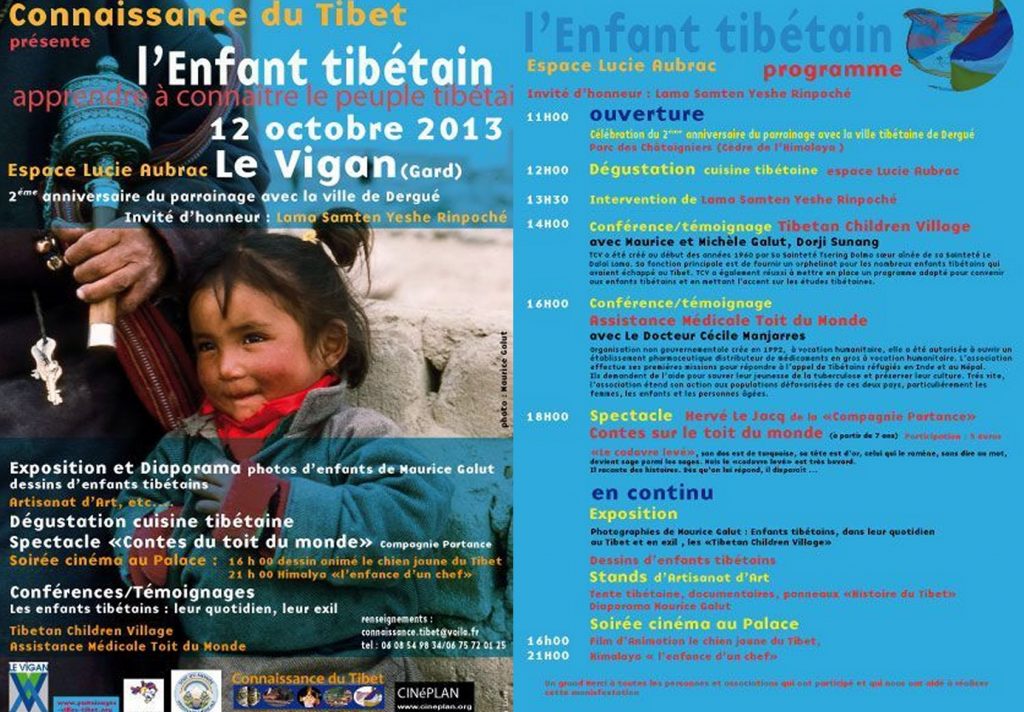 LE VIGAN –  12 October 2013 – Day "Getting to know the Tibetan people", Lama Samten Yeshé Rinpoche, guest of honor.