Here are the next main meetings in November 2017 proposed by Tazig Samten Ling.
Sunday, November 26, 2017 – Concert of sacred songs. 19 p.m. Location: Arles. See timetable for additional information.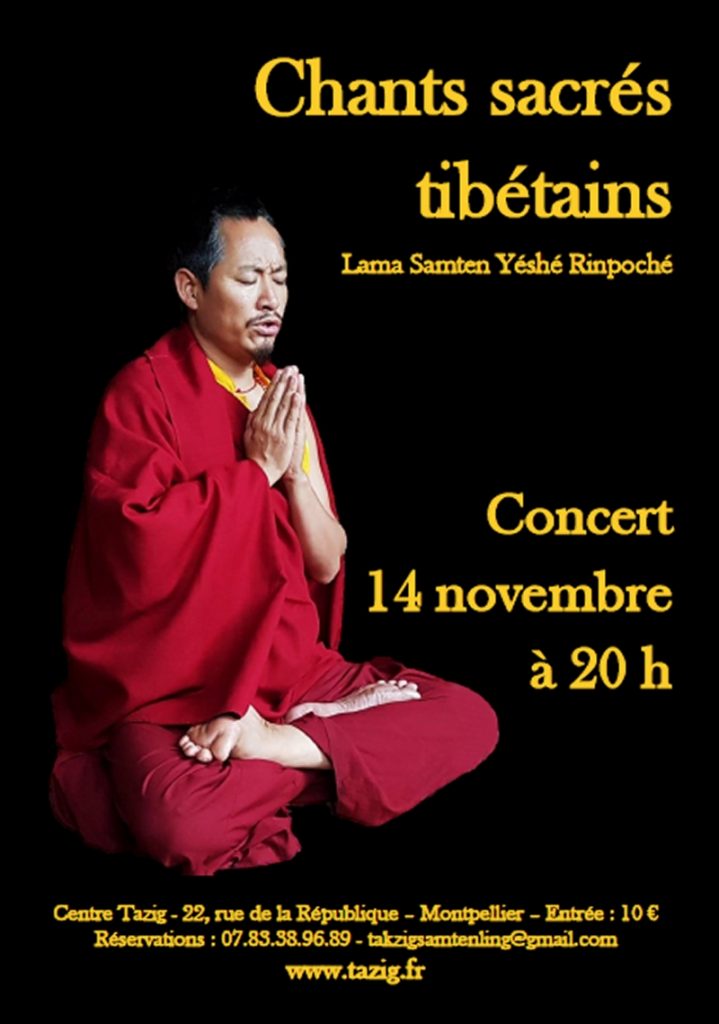 Tuesday, November 14, 2017 – Concert of sacred songs. 20 p.m. Location: Montpellier. See timetable for additional information.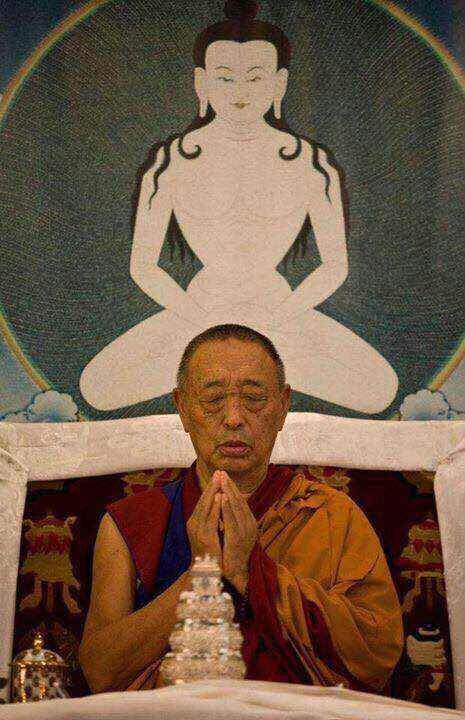 Wednesday, November 1, 2017 – Exceptional Grand Ritual in honor of His Holiness 33rd Menri Trizin passed away 49 days ago. Location: Montpellier Tazig Center, from 6 pm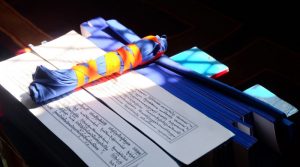 Active participation of Tazig practitioners is strongly recommended. All offerings of flowers, candles, incense and food or others will be much appreciated.
It is in the union and fervor that we will accompany Lama Samten Yeshé Rinpoche in his practice. We count on your presence.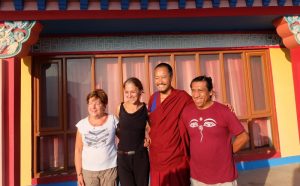 At the end of this ceremony, Rinpoche, Stephanie, Pancho and Josette will share with you all the precious and moving moments that we lived at Menri Monastery in India.
Some photos and videos will be presented to you.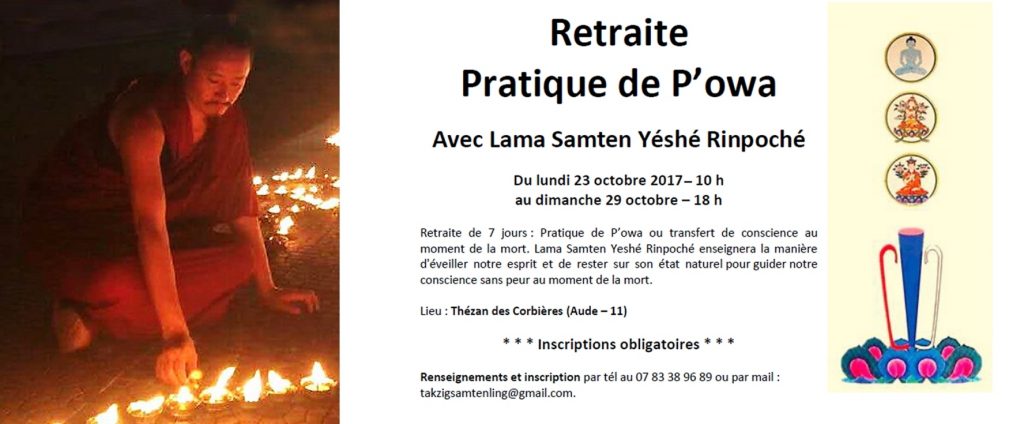 From Monday, October 23, 2017 at 10 am to Sunday, October 29, 2017 5 pm: 7-day retreat on the practice of "P'owa" or transfer of consciousness at the moment of death. Location: Thézan des Corbières.
IMPORTANT: Due to the P'owa retreat, the Montpellier Tazig Center will be closed from Monday 23 October to Sunday 29 October. Yoga and meditation classes will resume on Monday, October 30th at 6:15 pm for Tibetan yoga and at 7:45 pm for advanced group meditation and on Thursday at the same times for the beginners group.
Lama Samten Yeshe Rinpoche will teach how to awaken the mind and stay on the natural state to guide our fearless conscience at the moment of death. It is a very intense sacred practice that must be maintained during these 7 days. In Tibet, it lasts 49 days. Warning: you will not be allowed to be part of this retreat if you are not available from Monday to Sunday.
Limited places – Imperative registrations at takzigsamtenling@gmail.com.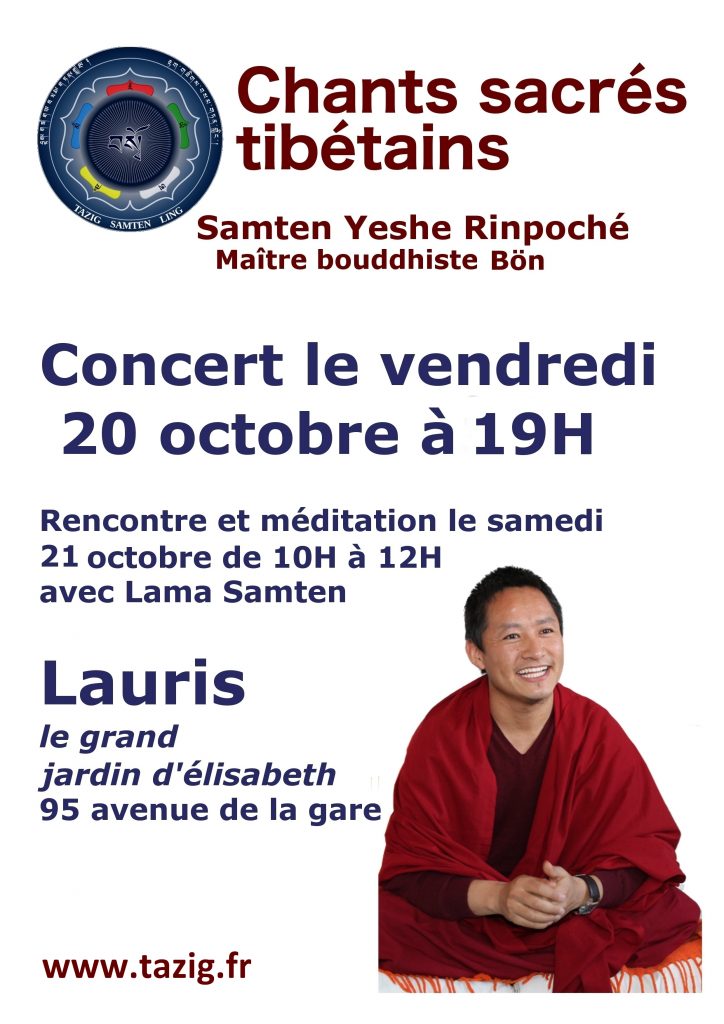 Friday, October 20, 2017 – 7 pm: concert of sacred songs
Lama Samten Yéshé Rimpoché, Buddhist Master Bön, will be present at the Grand Jardin d'Élisabeth in Lauris, Friday, October 20th. He will share with us the sacred songs of his lineage still practiced in Bön monasteries in India and Tibet.
The evening will be held on Friday, October 20 at 7 pm. The price of seats is 10 euros. Since the number of seats in the room is limited, we thank you for sending a pre-reservation mail to this address: michele.vicente10@gmail.com.
The next day, Saturday, October 21, from 10 am to 12 pm, interested people will be able to participate in a meditation and a meeting with Rinpoche. From November he will come to teach and meditate on the last Saturday of each month.
Sunday 22 October: Teachings, Tibetan yoga and meditation in Arles. See agenda of practice days.